After finding out that my last team did close to nothing in my battles, I switched around some pokes in my team. Most of them are still there but some have their sets changed. If you can,instead of actually changing pokes, I want to know what kind of possible threats might be devastating my team and their movesets,natures,evs,items etc for my pokes.
Note: This is close to an all sweeper team with only 2 pokes being bulky but this actually worked better for me than setting up and supporting teammates stuff. Those things just didnt fit my style so I went back to the all out offensive-ish style that I used to do back then. Also this team has 2 possible leads and it depends on my mood and predictability on who I will send out.
Also the 2 important things I lack for an all sweeper team is stealth rock and priority moves. Sure Houndoom can use suckerpunch but I find that to be a horrible move especially when only has an average attack stat. Breloom also learns mach punch but he does much better with focus punch. And none of my pokes in this team learns stealth rock so guess I will have to cope with that.
The names are in Japanese because I am Japanese owning the Japanese version of the game. But will write in English next to it.
ゲンガー(Gengar)-Expert belt
Ability:Levitate
Nature:Modest
Evs:156Hp/104SpAtk/248Spd
-Shadow ball
-Icy wind
-Focus blast
-Thunder
Gengar is my first possible lead and special sweeper. IMO I think he is one of the best leads out there. The reason is first he's immune to fake out and explosion, 2 common moves for a lead. He also has the nice immunities and resistances that make up for his frail defenses. And also with the investments in hp I gave him, he will be pretty hard to KO. Also psychic and dark type moves are barely used by any leads. So anyway icy wind will be used first to slow down a poke and break sashes. Then he can proceed to finish off the slowed down poke with one of its remaining moves. Also, Gengar forces alot of switches so he can use icy wind on that when I predict a switch and the poke will also be killed by one of Gengar's remaining move. Now you may be wondering why the hell thunder, well with thunderbolt it doesn't even 2KO most bulky waters even with an expert belt. So thunder is there for more power, and besides if it has focus blast why not use thunder also? And I don't see thunder missing all the time, at least in my experience. And that's not it. Gengar can come back middle or late game and act as a normal special sweeper.
キノガッサ(Breloom)-Toxic orb
Ability:Poison heal
Nature:Jolly
Evs:160Hp/96Atk/252Spd
-Spore
-Stone edge
-Focus punch
-Facade
Breloom is my other possible lead and physical sporing sweeper. If I know that the opposing lead is a Swampert or Metagross or other slower leads, I can send him out. So obviously Breloom spores pokes and tries to kill them with one of its moves that provide perfect coverage. Facade, stone edge, and focus punch provides perfect coverage so that helps him sweep better along with spore.
ギャラドス(Gyarados)-Leftovers
Ability:Intimidate
Nature:Careful
Evs:252Hp/76Atk/24Def/156SpDef
-Waterfall
-Bounce
-Dragon dance
-Taunt
Gyarados is my special hit taker. Electric might screw him up bad but he is likely to survive non stab thunderbolts not named Gengar with life orb. Besides, Ive got Flygon for that anyway. So he DDs and attacks with one of its stab moves to do some damage but otherwise he takes crazy amount of hits whether physical or special because of intimidate. Taunt is also a very good move on him especially after a couple of DDs because pokes like Skarmory who won't get KOed by Gyarados will probably try whirlwinding me so thats when I use taunt to stop that. So basically, he is only stopped by defensive pokes who carry a stab electric move.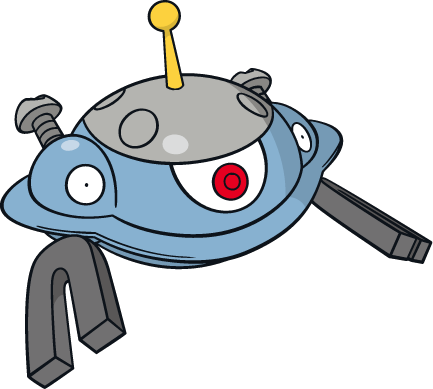 ジバコイル(Magnezone)-Choice specs
Ability:Magnet pull
Nature:Bold
Evs:236Hp/252Def/20SpAtk
-Thunderbolt
-Flash cannon
-Signal beam
-Hyper beam
Weird set but works for me. This Magnezone is pretty much the closest thing to a wall in this team and a tank because of his offensive stats with choice specs. He takes care of bulky waters and celebi. Also dont forget he is the infamous steel killer. With choice specs attached, he will literally kill any steel(bar Steelix and Magnezone) with a 2KO. Hyper beam over HP because HP modifier makes my game freeze so I could only get HP dark. And hyper beam is just like explosion, a suicide move. And he uses that when he has no other moves to use to damage a poke, like Jolteon.
フライゴン(Flygon)-Choice scarf
Ability:Levitate
Nature:Adamant
Evs:4Hp/252Atk/252Spd
-Earthquake
-Outrage
-Thunderpunch
-Rock slide
When I took a close look at my team, I realized I didnt have a dragon and started panicking. But Flygon all solved this problem and also, he was in my ingame team back in the R/S/E days and forgot how much I loved him. Something that made it better was the fact that he was a ground type too. It gives me electric immunity though I got to watch out for those infamous boltbeam combo. Anyway this guy revenge kills and physical sweeps and does the job quite well according to my opinion. Also, I find u-turn to be an absolute pointless move because since he's choiced, he can't switch moves to use u-turn if a threat comes in and why would I send out Flygon just to use u-turn when I could be sending out a counter for the poke in the first place? So thunderpunch over u-turn to come in and kill a +1Gyarados. Rock slide over stone edge because stone edge wont be killing Zapdos anyway(unless its a crit but I dont wan't to depend on that) and the high flinch is always nice.
ヘルガー(Houndoom)-Wise glasses
Ability:Flash fire
Nature:Timid
Evs:40Hp/252SpAtk/216Spd(216Spd to outspeed base 90s and dont want to risk tiers due to its frailness)
-Fire blast
-Dark pulse
-Super fang
-Role play
I love this guy. I really do. I even have a dog that looks like Houndour. Anyway enough of irrelevance, Houndoom is my late game sweeper. But he doesn't necessarily have to be. Houndoom is probably one of the few special sweepers who wont have problems with Blissey especially with this set. Role play to copy Blisseys natural cure to just sit there and let Blissey waste her time toxicing me or paralyzing me only to find out I switch and she poisoned or paralyzed me for nothing. And superfang is there because most people think Blissey will completely wall Houndoom's attacks so thats when I use that move to cut her hp in half. And I can keep using that move while she heals and heals. And eventually I kill her. 40 hp evs to take 3 seismic tosses from Blissey. Houndoom is also a Vaporeon, Jolteon counter. Houndoom is fast enough to role play and vaporeon uses surf-Houdoom heals. This is actually better than actually having trace as an ability because Houndoom can always have its ability back to flash fire when he switches which is still an amazing ability. Also don't think that I'm only using him for Blissey, I can actually sweep with this guy at anytime too, preferably late game though.
Immunities:
Fighting-Gengar
Normal-Gengar
Ground-Flygon,Gengar,Gyarados
Fire-Houndoom
Psychic-Houndoom
Poison-Magnezone
Electric-Flygon
Status-Breloom
Also 5 of my pokes are immune to toxic spikes, and 3 immune to toxic spikes.